Clean D Window Cleaning has provided exceptional power washing services to the Phoenix real estate market for over 15 years! Our team has assisted Property Managers, Engineers, Facility Managers, and General Contractors with a comprehensive, reliable service whether you are looking for a one-time service or ongoing maintenance.
Clean D Window Cleaning has worked with companies including;
Cushman & Wakefield l CBRE Group l Eagle Commercial l Kidder Matthew l Mode Commercial l Jones Lang LaSalle l Victoria Property Management l Hines Property Management l Cousins Properties l Core Property Management l Parallel Capital Partners, Inc. l Red Development l MEB Management Services l McCarthy Cook l Knight Management l Regent Properties l Lillibridge l City of Phoenix l City of Chandler l City of Goodyear l Best Western l Hilton l Homewood Suites l Wyndham l Holiday Inn l Hawthorn Suites l Hyatt Hotel
guaranteed cleaning service
When you want your property to look its best, cleaning it with a garden hose and store-bought cleaning products will not always get the job done. Worse if you use the wrong products for the surfaces on and around your property, you could unintentionally cause damage to your property! For guaranteed cleaning service, call in the experts for your next professional pressure washing service. We have the equipment and expertise to handle any commercial power washing project.
Clean D Window Cleaning only practices environmentally friendly methods. We understand the importance of complying with both EPA & OSHA regulations, so we provide eco-friendly pressure washing. Using only specific enzymes and detergents that are non-hazardous. This makes our process healthier for your property, properties, and the environment. While we take the steps necessary to protect Mother Nature, we never compromise the quality of our work. Your job will be performed in an environmentally friendly manner and at the highest level of quality!
Building Exterior
Walk Ways
Sideways
Parking Areas/ Lots
Industrial Areas
Courtyards
Outdoor Patios
Loading Docks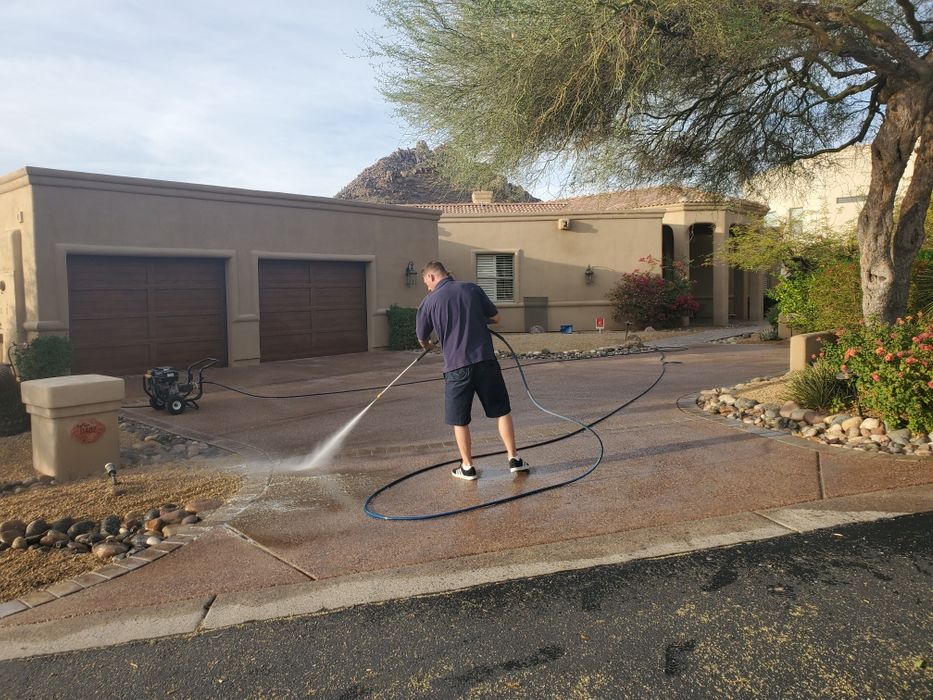 Environmentally Safe
We want The Valley of The Sun to remain an attractive, environmentally green, flourishing city not only now, but in the future. Here at, Clean D Windows we train our techs in Eco-Friendly techniques and take steps to keep dirty runoff water from entering storm drains.
Clean D Window Cleaning has an experienced team of 15+ years. Our company is fully Insured/bonded. As we bring years of experience collectively in providing Pressure Washing & Window Cleaning. Each of our professionals is a trained expert, capable of providing you the best in cleaning services using our eco-friendly system. Whether your property is Residential or Commercial, you can count on Dirty Boys to get the job done right.
We are proud to offer our customers the best service and quality at a reasonable price, regardless of the size of the job! Customers who use our services regularly (Monthly, Bi-Weekly, or Weekly) receive special discounts.
REQUEST A FREE QUOTE l CONTACT US
Did you know? You can power wash ceramic tile, aluminum, vinyl, steel, painted and unpainted wood, brick, stone, concrete, and shingles. Reach out to our professionals to come up with a plan of action for your property!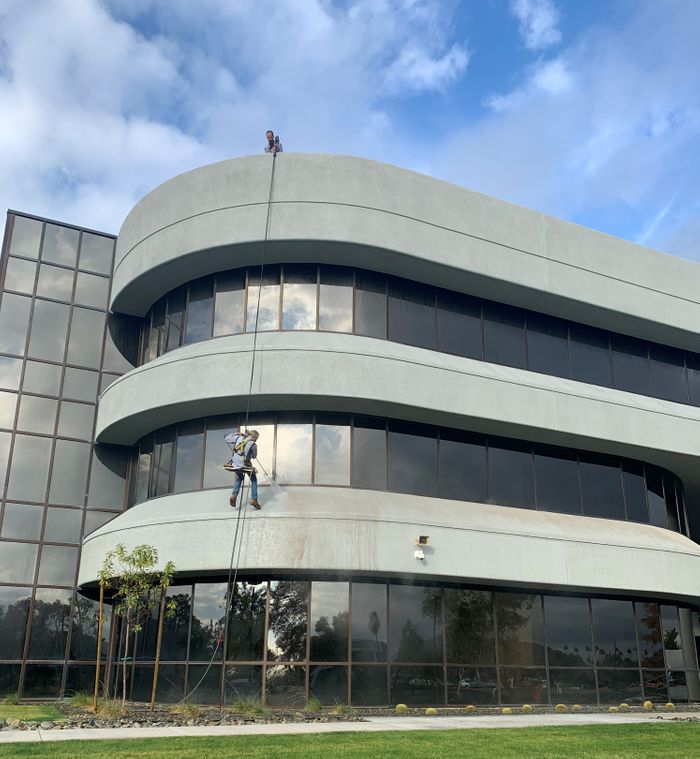 Power Washing Tools
Hot and cold-water units provide pressure up to 3500 psi using either a trailer-mounted or a smaller mobile unit to perform a cleaning. It is important to use the right tip and pressure depending on the hard surface is critical for performing cleaning and preventing damage to hard surfaces. Graffiti removal is no challenge for our equipment.
Zero Degree Tip – Used for hard surfaces like concrete to remove stubborn stains using a high impact, high-pressure cleaning system.
15 Degree Tip – Useful during the cleaning of pool desks, flagstone, pavers, and other non-painted surfaces to remove dirt and grime.
30 Degree Tip – Good for painted hard surfaces to perform cleaning without compromising the integrity of paint and other applications on hard surfaces.
45 Degree Tip - Good for lower impact cleaning to remove items like dust and webs from less solid surfaces including covered parking structures or other gentle surfaces.
Looking for a POWER washing service near you?
Look no more! As a #1 service provider in Arizona, Clean D Window Cleaning will come up with a plan of service to make your property look brand-new. A window cleaning and power washing contractor you can count on in the air and on the ground!
Our company does not only have 15+ years of experience in this industry, but we also have countless satisfied customers, not only in the commercial but in the construction, HOA, and residential sectors as well. Priding ourselves on being the most professional and reliable commercial window cleaning company in the metro Phoenix area.
One thing you should know about our company is the fact that we are highly dedicated not only to meet all your window cleaning and pressure washing needs but also to exceed your expectations. In order to do that, Clean D Window Cleaning has come to work with some of the best trained and most professional cleaners in the Phoenix area.