High-Rise Cleaning Service
Safely access and clean windows above 3 floors - High Rise Exterior Cleaning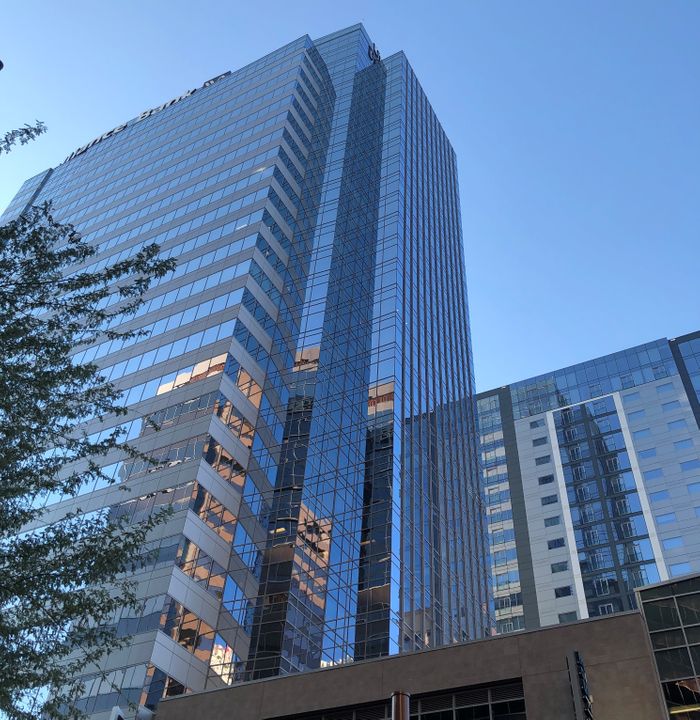 How to hire the best high-rise window cleaning company - Clean D Window Cleaning
Looking to get your high-rise building windows washed? Then you are in the right place as we are a high rise cleaning and access specialists performing a variety of services. High rise window cleaning has a lot of exposure, therefore it is important to make sure it is done by professionally trained staff in a safe manner. It is not as easy as you might think, so it is advisable you hire professionals to do the job. The most important thing is to ensure that you work with the a reputable and qualified window cleaning company. Does the company have a training program? How much do companies pay their window washers? Does the company carry liability insurance covering their operations? The following are the major reasons you should hire the best commercial window cleaning company.
Clean D Window Cleaning will have the job done fast and in an efficient manner. Our staff is among the highest-paid in the industry.
Believe it or not....any cleaning companies do not hold training as much as they should. Training should be at least monthly.
Promote safety always, but especially when working with high-rise buildings. Proper high-rise rigging techniques and equipment operation is the first step and the ability to identify safety hazards. With a plan of action that is well communicated by holding onsite assessments and tailgate meetings helps promote good safety practices.
Apply the right high-rise window cleaning equipment to get the job done. Make sure that the building is up to date and compliant with building codes. Don't use a bosun chair more than 300' above the ground and inspect all components of your equipment is key. Don't rush, mistakes happen when rushing through a job.
By hiring a professional high-rise window cleaner will save you headaches and potential risk. Do your due diligence and get referrals from your prospected contractor if you are not sure.
High rise window cleaning regulations and OSHA - History
As taller buildings became part of the landscape in the early '20s, demand for window cleaning became part of maintaining a clean and sustainable building. In the beginning, developers had to come up with a way to perform exterior window cleaning. Therefore, anchor points would be installed inside the window ledge and a cleaner would use a belt to secure themselves to the building while stepping out on the ledge, cleaning the window, and returning through the window back into the building interior. As glass became more a part of the building design, other methods have evolved to using bosun chairs and swing stages.
As time moved on, it was apparent that this trade needed more regulations and as the industry became more organized, so did the safety standards. Between the '20s and up to the '90s, there were no specifications in federal regulations that were for this unique industry. With the organization of the International Window Cleaning Association (IWCA), window cleaners from around the country got together in an effort to bring structure and a learning platform to the industry. In an effort to make the window cleaning industry a safe practice as well as minimize the insurance exposures and costs for these contractors. The IWCA began working with American National Standard Institute (ANSI) who helped create and publish the I-14 which is a guide to window cleaning safety in 2001. Finally, the Occupational Health and Safety Administration (OSHA) adopted these standards into their publications CFR 29 subpart 1910. This standard is directly related to walking surfaces and fall protection, but not fully comprehensive to include all regulations for high-rise work with respect to window cleaning. In 2017, OSHA published a full document to expand on regulations that govern the window cleaning industry.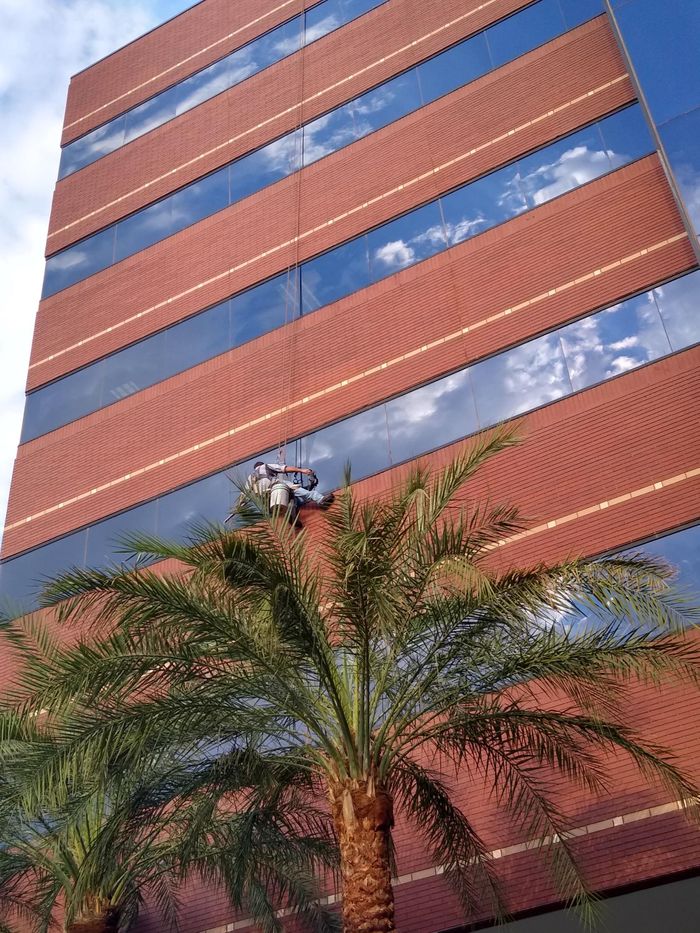 How to clean windows on a high rise building
True, working from a higher elevation to perform exterior building maintenance is dangerous not only for the workers but also for pedestrians below. It is important to work with a window cleaning contractor who has a detailed understanding and adopts these important standards into their operation. As building designs become more intricate, accessing areas for cleaning has become more advanced. It can be easy to enter the cleaning industry, so it is important to make sure that your contractor has a comprehensive training program for its window cleaners. Insurance is also critical. If your window cleaner does not carry sufficient insurance or insurance at all it will be extremely costly, especially in the event of an accident. Having the right coverages and doing some due diligence on your contractor can save you time and money.
While swing stages and bosun chairs are some methods to access taller buildings, the use of aerial equipment such as scissor lifts and boom trucks is another tool that window cleaning contractors can use to get to a higher elevation. Make sure that your contractor and employees have had formal training, typically through the equipment vendor, and are certified to use such equipment to prevent damage to the property or injury to others.
A responsible window cleaning contractor like Clean D Window Cleaning is not as easy to come by as you may think. Many companies get too busy or have a lack of knowledge to have a well-rounded safety program. Part of this is because it is very hard to find the safety material just browsing online. To be a tradesman and professional window washing company, there is a journey to travel to get there.
High rise service customers and Clean D Windows
Our company has been formally trained and certified through the IWCA and well versed in all regulations that govern our industry. Utilizing technology in ways that other contractors do not take advantage of making sure that information is available to not only the contractor but the cleaners and customers.
Values are what make people different and companies alike. Our goal is to become an extension of your management team while bringing the highest trained staff, most current and innovative processes, cost-effective and SAFE practices to your building operations.
Did we tell you that we are also proficient in suspension systems? To be a safe contractor, we need the help of our customers to make sure that if overhead work is performed, that the proper systems are in place. It is the responsibility of the building owner to provide these systems, and the management team to keep them up to date. Further, it is the responsibility of the contractor to make sure that all parties understand all aspects, liabilities, and functionality of these systems.
Need to certify your suspension system? Contact us today and we will make sure you get all the information needed and resources possible to protect your owner, property, and vendors.