Commercial Pressure Washing Services
Looking for a pressure washing service near me?
Looking for the best pressure washing services near me?
Look no more! As a top-rated pressure washing service provider in Arizona, Clean D Window Cleaning will come up with a plan of service to make your property look brand-new. A window cleaning and power washing contractor you can count on in the air and on the ground!
Our company does not only have 15+ years of experience in this industry, but we also have countless satisfied customers, not only with commercial cleaning but in construction cleaning, and HOA property cleaning as well. Priding ourselves on being the most professional and reliable commercial window cleaning company in the metro Phoenix area.
One thing you should know about our company is the fact that we are highly dedicated not only to meet all your window cleaning and pressure washing needs but also to exceed your expectations. In order to do that, Clean D Window Cleaning has come to work with some of the best trained and most professional cleaners in the Phoenix area.
Local professional company for exterior pressure washing
When you want your property to look its best, contact a professional pressure washing company. Pressure washing consists of a high-pressure washer, garden hose to provide water, pressure washing wand, hot water heater, if applicable, and a cleaning solution, if applicable. Pro-tip, if you use the wrong products for the surface on your commercial or residential property, you could unintentionally cause damage! Call in the experts for your next professional pressure washing service. We have the equipment and expertise to handle any commercial power washing project, remove stubborn stains and dirt from your property.
Clean D Window Cleaning is a top-rated company that only practices environmentally friendly methods. We understand the importance of complying with both EPA & OSHA regulations, so we provide eco-friendly pressure washing for concrete and hard surfaces. Using only specific enzymes and detergents that are non-hazardous. This makes our process healthier for your property and the environment. While we take the steps necessary to protect Mother Nature, we never compromise the quality of our work. Your job will be performed in an environmentally friendly manner and at the highest level of quality!
Building Exterior Wash
Walk Way Pressure Washing
Pressure Wash Sideways
Parking Areas/ Lots
Break Areas
Courtyards Pressure Washing
Outdoor Patios Pressure Wash
Loading Docks Pressure Wash
What are a few questions you might want to ask a contractor you are considering?
What type of power washers do you have?
Power washers can be cold water only, or hot and cold water. Pressure is important as well, but not entirely. A trusted professional will be able to advise you on the type of power washer and the power washing process with great detail.
Will a power washer cause any damage?
Different surfaces require different pressures, tips, temperatures, and techniques. If the cleaner is just starting out, you could help pay for his or her education by having to fix the damage.
Does your company carry insurance and what would happen if there was damage to any area to be pressure washed?
Pick your cleaners brain, you will get a good sense of their knowledge base by asking questions. Call today for more information - 480-557-6219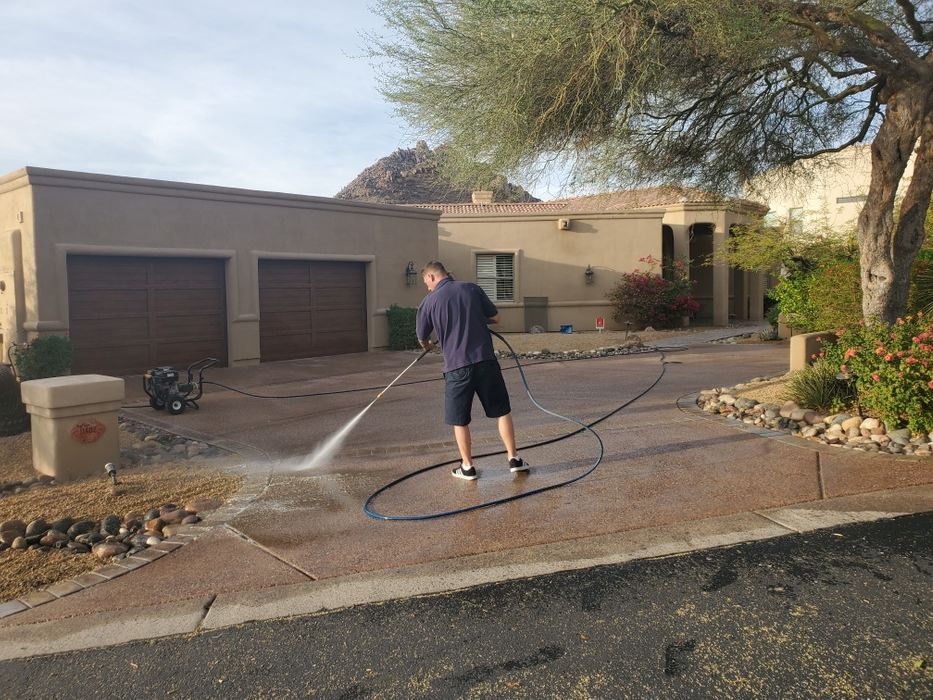 What do professional pressure washers use?
Training our techs in Eco-Friendly techniques and take steps to keep dirty runoff water from entering storm drains or vegetation around the property.
Clean D Window Cleaning has an experienced team of 15+ years. Our company is fully insured and bonded. As we bring years of experience collectively in providing pressure washing, we know exactly how to clean all exterior surfaces. Each of our professionals is a trained expert, capable of providing you the best in cleaning services using our eco-friendly cleaning systems.
Includes hot or cold pressure washing machines
Pressurized water reaching up to 4200 psi
Pressure washing solutions are nontoxic for plants and animals
Trailer mounted pressure washers | Mobile pressure washers
We are proud to offer our customers the best service and quality at a reasonable price, regardless of the size of the job! Customers who use our services regularly (Monthly, Bi-Weekly, or Weekly) receive special discounts.
REQUEST A FREE QUOTE l CONTACT US
Did you know? You can power wash ceramic tile, aluminum, vinyl, steel, painted and unpainted wood, brick, stone, concrete, and shingles. Reach out to our professionals to come up with a plan of action for your property!
Professional power washers located in Tempe - Serving Phoenix Metro Area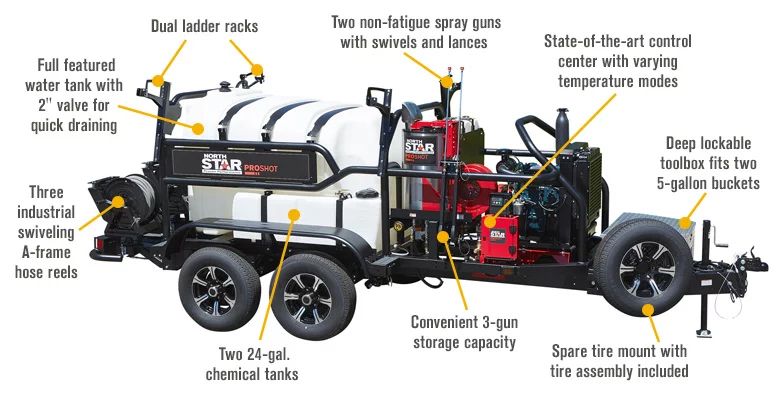 Use purified water to power wash larger solar panel jobs - Save time and money
Commercial solar panel cleaning and solar farm maintenance
Solar panel cleaning maintenance is paramount in Sunny but Dusty Arizona! A typical solar panel system will see up to 20% ROI in the first year. Payback periods vary from one solar system to another depending on a variety of factors. Some homeowners will spend more on their system. Others use more electricity or live in an area where electricity is more expensive, either way cleaning is a necessity to produce the highest output.
Cleaning a typical covered parking with solar panels might cost $3 per panel and most and there can be anywhere from 20-30 panels per 6 car section you could expect to pay between $60-90 per section. This does not include the cost of lift equipment if needed, which will pay off on larger jobs for more efficiency and thorough cleaning. We will also need to add the cost of equipment such as scissor lifts or knuckle booms to bet the best cleaning advantage.
We highly recommend doing this once to twice a year. Performing this maintenance will extend the lift of your investment and produce the most watt's possible!
Residential Home Solar Panel Cleaning
Solar panel cleaning on Luxury Homes throughout Phoenix. Make sure you call a company that knows how to clean safely without damaging your system. Cleaning of residential solar panels are typically going to be $5.00 per panel. This is mostly because the time to set up to begin cleaning and putting everything away takes a good amount of time. Also, it is likely we will need to climb on the roof of your home. This could also lead to additional care safety to not slip in addition to making sure a tile roof is not damaged while walking on the roof, for example.
Solar Farms Maintenance
Beyond basic debris removing, it is recommended by most solar experts that you give your panels a thorough cleaning at least twice a year, also recommended by manufacturers. An annual clean up has been found to improve energy output by as much as 12% when compared to panels that were only cleaned by rainfall.